Essential Life Gear - Late 2020 Update
11/3/2020, 12:00:00 AM
5 min read
I like gear.
I much like gear.
That's why I spend so long researching equipment that will perfectly fit my needs (or make me discover unobvious ones).
This post describes what follows me on a daily basis for about any task I need to accomplish.
Bag
Every one needs a bag, right?
For now, yes I think that it's still the case.
This year, I finally switched back to a backpack from my beautiful messenger bag. I used to use those kind of bags for years and some new considerations made me go back to the infamous backpack.
In short, I told myself that I wanted:
a convenient way to carry an umbrella
being able to have a 1.5L metal bottle
having weight better distributed all over my back.
As for the last point, it is known that messenger bags do not shine making our shoulders and back staying healthy. And I think I started to feel it.
Also, as a die hard Japanese fanboy, I happened to have chosen ?
**drum rolls**
A Japanese bag!
A gorgeous fake burgundy red one from the Himawari brand and I'm much happy with it!
Here is what it looks like.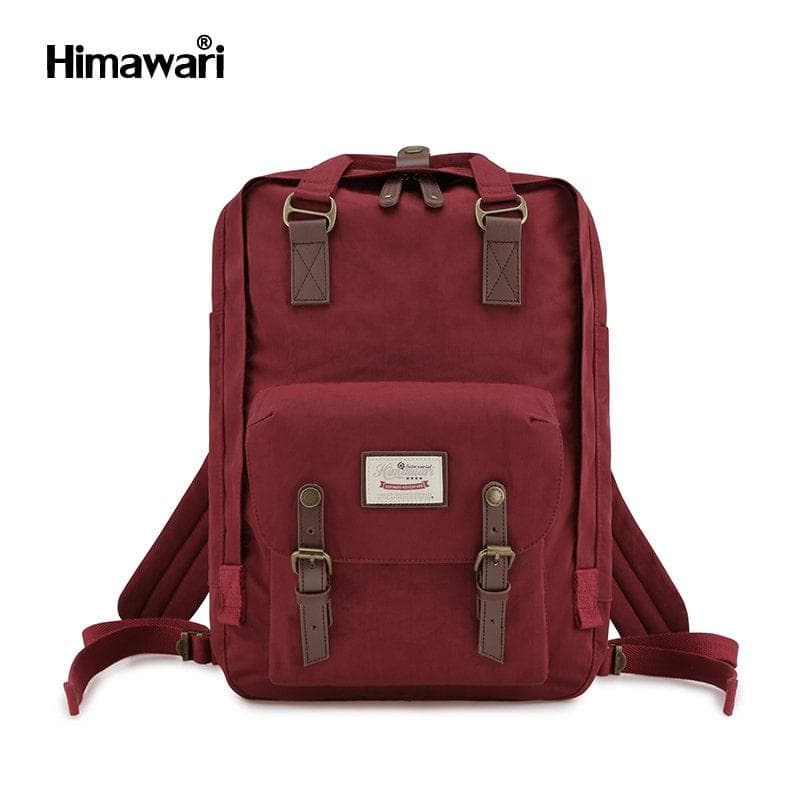 You can buy it there.
Wallet
This year, I told myself that I wanted to have a wallet that fully fits my needs.
I got into sort of a "refactor" of my wallet setup.
So first, I thought hard about the considerations that was important to me:
smaller is better
can fit what I need to carry every day
and so on.
But then I stopped for a moment.
I started tackling this problem from another angle and ponder for a moment.
By changing my thinking I found out something that would make me reconsider the wallet "problem".
YMMV, but that's how I thought about the whole thing.
In my wallet, I want to be able to carry my:
credit cards (at least 2 but at most 4)
bills, and PERHAPS coins!
ID card
passport
loyalty cards.
That's when I noticed this arm long list that I told myself that another approach could be clever.
I identified two patterns there.
There are things that I want to carry with me AND that I use on a daily basis.
Then there are others that I of course still want to carry BUT that I'll use sporadically.
And now I had an idea that even now I'm thanking myself for having.
Having understood the distinction I decided that I would have ... two wallets.
One, that would be the smallest possible and that I'll carry in my pockets everyday. A second, that I would let in my bag that I'll also carry with me.
This way, I'll have a wallet for things I use on a daily basis and thus for which I need quick and easy access.
And another one that would be for things I need from time to time and that I won't find inconvenient to have it being harder to reach.
The latter would also be the biggest of them.
I keep the lightweight one on me, and the plump on in my bag, so I can stuff it with things I don't even have now.
My logic for this move revolved around thoughts like the following.
"I don't need my ID card everyday, so I'll put it in the wallet that would stay in the bag." "I don't need my billions loyalty cards on a daily basis either, so it'll also stay at this same place."
It's the same thing for my driver licence (I only need it when I get asked for by the police.)
It's also the same for the passport.
All of these belong to the heavier wallet.
The rest?
My two credit cards, my bills and transportation card stays with me and I'm set!
All of these now lay in a Kamino wallet! My Kamino Card Wallet to be exact!
I took the beige model.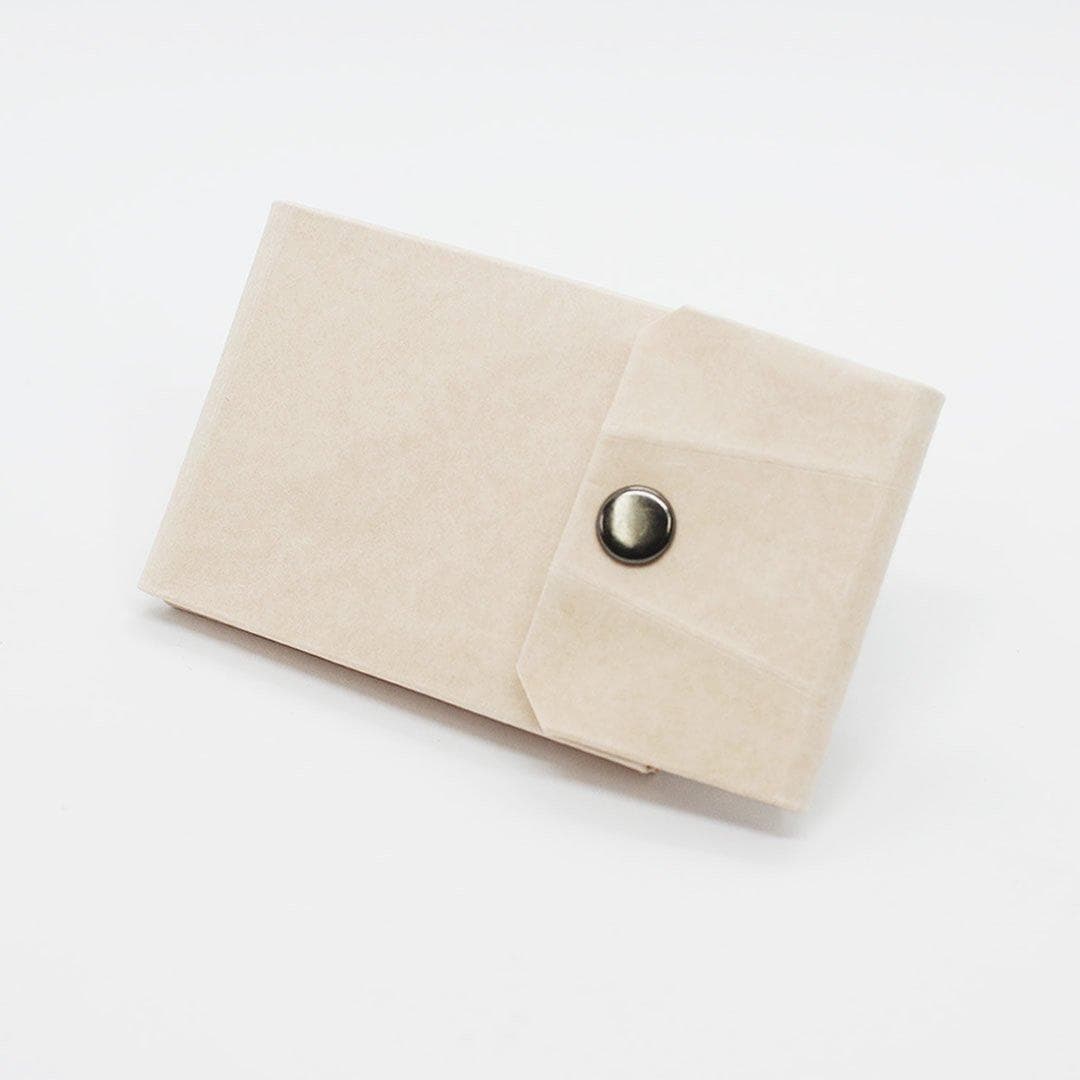 Yet another Japanese brand, yes!
Before this purchase, I had a standard bifold wallet that could fit more cards than I'll ever need on a daily basis.
Laptop
I'm still waiting for the 14" Macbook Pro that (will) include:
an HDMI port
many usb ports
a new screen
an insanely performant CPU and GPU.
Without this, I won't be replacing my 2015 13" Macbook Pro with another Apple computer and I may take a new Windows laptop. I, for now, have both, and I would be pleased to keep it this way.
I love tasting different worlds when it comes tech thingys (and other things in life) so having a new Apple computer I do enjoy would really fill this side of me.
Oh, and ... if the MagSafe could actually make its return, I would be more than happy.
I indeed think that this very feature is one of the geniuest ever created for a laptop computer.
I'll make a post about it. 🤔
Screen
I still have my 2013 Dell 2713HM!
I am looking for a substitute, even though not actively, and from the criterias I made, the next one must have:
a refresh rate of at least 120hz
an IPS panel or better (in terms of color accuracy)
a minimum resolution of 2560 * 1440.
I have no fixed opinion on its size though.
Last words
Here's the end of this update!
I'll make another one in half a year, or later.
Do you have gear that you swear by any day of the year?
I would love to discover them!
It may also give me ideas for the next I'll get for myself or even give other readers clues about what they could obtain for themselves!
---
No comment yet   (●´⌓`●)
It's your time to speak up!
Share some witty insights so readers will be twice as happy.
Like what you read? Opt-in to my mailing list for more!
Shameless self-flexing
"Open-mindedness creates closeness. How funny?"
— Grégory Poircuitte